Hirschberg Engineering
Developer of the novel tool based additive manufacturing (TAM) technology which will enable breakthroughs in design and manufacturing of chemical process engineering equipment and much more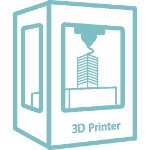 During the last 30 years, various Additive Manufacturing (AM) technologies have been developed and these technologies are increasingly making inroads into many application areas. AM is very versatile: it can be used to produce a wide variety of parts made of a growing range of materials. However the main focus of AM is still prototyping or low volume production. Compared with conventional mass production the cost of AM is typically still far from competitive.
There are however applications where the cost of the equipment used is of primary concern. In some cases the performance of such equipment could be significantly improved if it contained features, which can only be fabricated using additive manufacturing. Because of the high price of today's additive manufacturing, such equipment can't be produced up to now.
Hirschberg Engineering has found a way to address this gap in fabrication technologies. We are working on a technology, which allows for large volume production of parts with features, which cannot be realized with conventional fabrication. Our technology uses tools to achieve high throughput for many equal parts. Therefore we call it Tool based Additive Manufacturing (TAM).
We are looking for partners or investors, who are eager to make this promising technology a success together with us. A range of patents have been filed to secure the IP rights of both the TAM technology aswell as some structures which can be realized with it. Do you want to learn more? Please don't hesitate to contact us.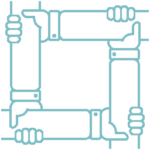 Details about some applications, which can be realized using equipment produced with our technology
If you have questions or if you want to cooperate with us in the development of applications or production equipment, please get in touch